"As we take the next steps in our journey, I know you'll be right there with me, as always, in my heart and by my side.
Thank you, God bless you, and may God bless America"
- Hillary Rodham Clinton
As she quoted on her official site.
Last, 12 November 2009. – US Secretary of State Hillary Clinton had visited the Philippines amid the persistent violence from the Al Qaeda – linked Abu Sayyaf group in the skittish south of the country. As I was now skimming the Newspaper, and red the headline of the Phil. Daily Inquirer "Hillary vows $5M in storm relief funds". Bearing with her a $5 million Christmas gift, one of the most powerful lady in the U.S learned to say "Mabuhay" as her introductory greetings to the Filipino public.
The US Sec. of the State Hillary Clinton last November 12, 2009 visited a flood devastated school in Marikina City pledged and presented the new relief and new life on top of the $14M in assistance to those people who had been struck cruelly by the typhoon Ondoy just recently.
As I keep on reading the entire article I was glad reading and appreciated what she said "I am pleased to announce more than $5 million in new relief funds for the Philippines," she said. I felt grateful and relieved and felt the same at the moment in one of the Filipino victims about reading her remarks. As a matter of fact, it doesn't only include money matters alone but new life support will be built. New schools, construction of classrooms, 300,000 books and desks for 15,000 students, as well as to repairing water and sanitation systems, medical supplies and assistance" she said.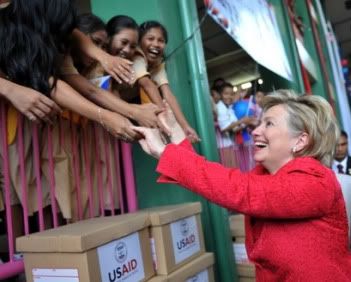 Well, God indeed never fails people who put their indestructible faith on him. Praise God for sending U.S Sec. of the State Hillary Clinton to the Philippines. Approximately a lot will be blessed with that certain amount of money. And a life changing experience to them as well. I hope and pray that the solidarity of the Philippines and the United States of America will be held high eternally.

God Bless the Philippines and God Bless America. Long live to all.