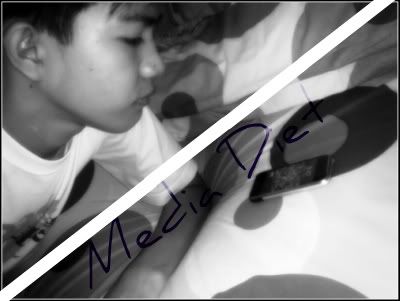 I strongly believe in this statement. Children spend most of their time with their parents. As teenagers spend mostly of their time with their "gizmos". It was quite late when I woke up this morning. In fact, it was 10:30 am when I hit my breakfast & ate a sumptuous meal all by myself. Mom & my little sister have eaten breakfast ahead of me, so that's why I ate alone. It was just one of my typical Sunday sunshine's. And the whole week was a kind of strange weekend. I think...
Later, I was heading on to our living room until in the middle of my warm induced stupor; I realized that I forgot that I'm on a media diet. And I've remembered the objective of this exercise, is to deprive myself, ourselves from the rest in connection with media. Televisions, Smart phones, Net Surfing, e-mail, chat, online gaming. I just couldn't imagine what life would be without the comfort these things bestow to us. Well, thanks to all the prodigies who made technology possible? Indeed, it made life more amiable to live.
Moving on – I did have some disparity from the Television, from my phone, & from my accounts in my (social networking sites) but later I have recalled that I should have finished envisioned my Blog for our Journalism Class. So I did had a Hindsight, I was really mixed up on what to do. Needless to say it was like I was turned into two. So to meet my task half way. What I did was I spared myself for a while and did that so-called media diet & after which when twilight came, I started to work on the finishing edges of my Blog and off I go for the finishing touches of it.
Well it's been a great & fulfilling day today. This has been a healthful thing fulfilling & attaining the demands for the start of my future career. As the Dept. of Tourism head Ace Durano remarked in his interview "Fulfillment is indeed the benchmark for living a meaningful life" and with all those media dieting today, my brain seemed starving for rest. Truly I should be winding down now. So long till next time... "bonne nuit les gens".