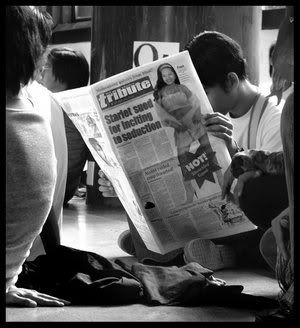 A former town mayor in Aklan wanted for the murder of broadcaster Herson "Boy" Hinolan has reportedly dressed himself in women's clothes to evade arrest.
Senior Supt. Benigno Durana Jr., Aklan police director, said they have received several reports that former Lezo town mayor Alfredo Arcenio has been seen wearing women's dresses.
"He knows he is being hunted so he may be using disguises," Durana said in a telephone interview.
Arcenio a former soldier, has eluded arrest since he went into hiding after the Kalibo Regional Trial Court issued a warrant for his arrest on September 7, 2006. The Department of Justice has issued a hold departure order against him.
Witnesses have alleged that Arcenio was the lone gunman who repeatedly shot Hinolan on Nov. 13, 2004 while the broadcaster was urinating near a carnival in the capital town of Kalibo before the gunman fled on board a motorcycle driven by another suspect.
Hinolan died two days later at a hospital while being treated for multiple gunshot wounds. He was the station manager of dyIN Bombo Radyo in Kalibo and hosted the station's morning program "Bombohanay Bigtime."
Arcenio has repeatedly denied the allegations that he was involved in Hinolan's murder. He claimed he was in Lezo, 8 km west of Kalibo, during the shooting.
The Philippine National Police has offered a P100,000 cash reward for his arrest but he has still remain at large three years after Hinolan's murder.
Durana said Arcenio could be constantly in the move to elude the police.
"He is a former mayor and Army intelligence officer so he knows what to do and has many connections," said Durana.
Hinolan's widow Aphrodite has lamented the inability of law enforcers to arrest Arcenio.
"We have not found justice three years after Boy was killed. It is because he (Arcenio) is a former mayor who is powerful and influential," she said in a text message.
Aphrodite said she has been approached already by persons who have offered to "settle" the case for an amount..
"Even if they will offer millions of pesos, I will not agree. I do not want money. I want justice," she said.
The National Union of Journalists of the Philippines (NUJP) said Hinolan's case shows that "justice remains elusive for journalists and other victims of summary killings in the country despite official government pronouncements that the killings are being addressed."
Hinolan is among the 90 journalists murdered since 1986 and the 53rd since President Macapagal-Arroyo came to power in 2001, according to a tally of the NUJP.